Nationwide makes participation easy
These days, everyone is looking for faster, smarter, easier, even automatic. Nationwide works hard to make planning for retirement easy for participants.
Introducing Auto Increase.
Auto Increase allows participants to automatically increase contributions little by little each year as well as pick a specific date, dollar amount or percentage.
Beginning in January 2016, participants can begin using this new feature. It's an easy way to stay on top of their goal to increase their contribution so that they don't have to think about it. Once they sign up, the increase automatically happens on the date of their choice.
As a Plan Sponsor, you have the option to opt out of this feature. If you don't want this available for participants, please call Nationwide at 877-496-1630 by January 8, 2016.
Nationwide mailed letters to the plans that have received auto increase. If you have not received the mailing and would like auto increase added to your plan, please contact us.
Auto Increase Features Work for Participants.
As you can see from the chart below, Auto Increase can make a big difference for participants' retirement savings over a career. Even a $50 year over year contribution increase can significantly boost a retirement savings account.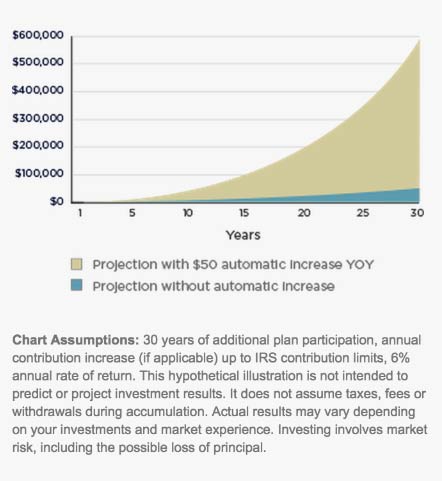 Remember, there is no change for you with auto increase and the current contribution change process. You will be made aware of participant elected auto increases through the current contribution change reporting process.
NRW-4538AO-IF.1